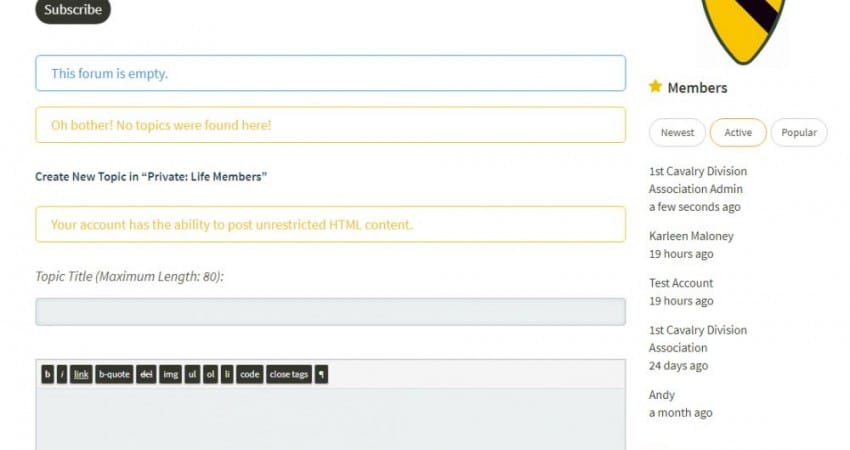 Excerpts from: A New User's Experience Using Forums
Creating Forums
Using the Getting Started guide, I created my first forum. Since forums are Custom Post Types, the forum editor looks similar to the Post Editor. It would be nice if hints displayed above each field so users understand which part of the forum they're connected to. For example, the title field should have a hint that says "Name of the forum" and above the editor, text that says, "A description of the forum". Some of the items on the Forum creation screen make sense but it shouldn't be assumed the user knows what each field corresponds to.
There are two different types of forums, forum and category. Forums contain topics and can be the parent of other forums. Categories can only contain forums and are primarily used as a method of organization. The nomenclature used is enough to make anyone's head spin.
Creating Topics
After creating a forum, I moved on to create a topic. Topics are similar to typical forum posts. Topics are one of the three Custom Post Types created by bbPress, which means the Topic editor uses the same interface you'd see when writing a post. Similar to creating forums, I'd like to see the fields labeled for consistency. Creating topics from the backend of WordPress is fairly easy after creating the first forum.
The Frontend of bbPress
Everything up to this point has been managed from the backend of WordPress. I've created a category, forum, and topic. It's time to see how bbPress works on the frontend. Replying to a topic is straight forward. A form is supplied with quick tag support so visitors can easily style text. After hitting the submit button, the page reloads and the reply is shown. Sometimes, replies don't show up immediately because they're moderated by Akismet.
Once I got a handle for how bbPress is structured and what categories, forums, topics, and replies look like, I went back to the Forum Settings page.
Not Easy Enough
bbPress is a plugin, and because of that, I expect to be able to turn it on and have everything ready to go. As you can see from my experience, it doesn't always work out that way, especially when using a theme that doesn't support it out of the box. The Getting Started guide is important information on understanding how to configure bbPress. Without it, I'd be lost in the dark.
My initial experience is rough around the edges and at times frustrating, as I couldn't easily find the help I needed. I can only imagine how many others have gone through the same experience. Hopefully, a few changes will be made to bbPress and its website to create a smoother new user experience.
If you've recently installed or used bbPress for the first time, tell us about your experience in the comments.