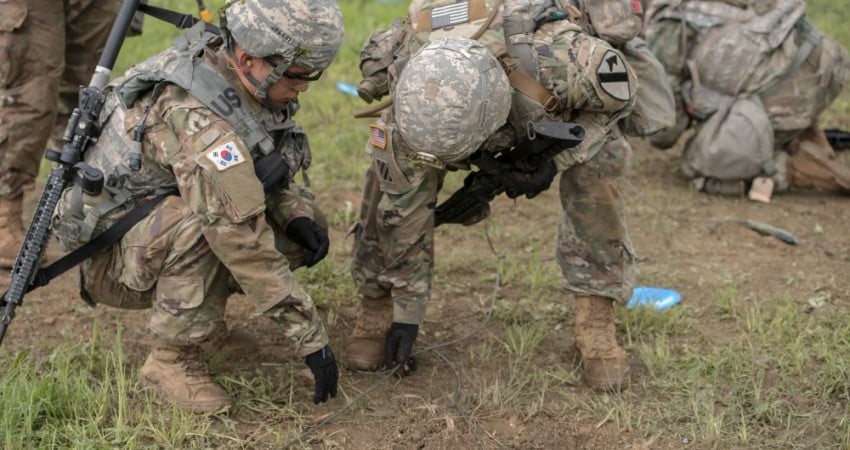 By Maj. Carson Petry,
2ABCT Public Affairs
WARRIOR BASE, Korea- Soldiers and Korean Augmentation to the United States Army (KATUSA) from the 8th Brigade Engineer Battalion, 2nd Armored Brigade Combat Team, 1st Cavalry Division conducted a demolition exercise at California range July 9.
"Our mission is to conduct a demolition training event and set the conditions for our Alpha company to follow," said 1st. Lt. Jose Cruz-Perez, 2nd platoon leader, Bravo Company, 8th BEB. "Our main tasks are to set up and employ Bangalores and use them to breach wire obstacles and use C4 blocks to push away land mines to create a lane for maneuver units."
Training at California range gives the Breach Masters the opportunity to cross train multiple military occupational specialties in breaching techniques.
The special equipment operators for the 2nd squad, 2nd platoon, Bravo Company, 8th BEB normally are brigade assets who operate breaching and dig equipment. Every Soldier is an operator of the equipment. They are not dismounted. These Soldiers work tractors, bulldozers, scrapers, and graders, but at California range, they moved tactically and constructed charges to breach obstacles.
"To see them outside going toe-to-toe with the guys that are dismounted and going into the breach and saying, 'Hey, I can do the same thing as you," is awesome and gives a whole new capability to the brigade," said Capt. Nicholas Reisweber, commander, B Co., 8th BEB. "I can honestly say I have a platoon and a half of breaching capabilities, and that's pretty impressive."
Taking full advantage of the training facilities and high availability of demolitions, the Breach Masters are motivated about their future training opportunities on the peninsula.
"After this demo range, we have our team validation and live-fire exercises," said Staff Sgt. Terry Constant, range NCOIC, Bravo Company, 8th BEB. "We have a lot more time to train, and the Soldiers are willing to stay overnight. They are motivated and willing to go."
The Breach Masters take the motto on the peninsula, "fight tonight," seriously. Cross training all members of the Bravo Company in skill sets designed to increase the combat power of the battalion ensures the Breach Masters are a combat multiplier for the brigade.
"We are ready to support any maneuver unit we need to and open any breach," said 1st. Sgt. Sandymalcom Camacho. "We get the maneuver forces closer to the enemy and engage if need be, and we're ready to fight tonight at all times. We are ready to be called upon and execute our mission to help the alliance and win the war."
CUTLINES:
Breach- Special equipment operators from 2nd squad, 2nd platoon, Bravo Company, 8th Brigade Engineer Battalion, 2ABCT conduct breaching drills at California range July 9. (Photos by Sgt. Patrick Eakin, 2ABCT, Public Affairs.)
Explosion- Bravo Company uses C4 blocks to breach a makeshift door during a training exercise at California range July 9. (Photos by Sgt. Patrick Eakin, 2ABCT, Public Affairs.)
KATUSA- A KATUSA assigned to Bravo Company, 8th BEB, 2ABCT pulls security as a part of a squad-level breaching exercise July 9. (Photos by Sgt. Patrick Eakin, 2ABCT, Public Affairs.)
Online- Soldiers and KATUSAs assigned to Bravo Company, 8th BEB, 2ABCT prepare to bound forward in a training exercise at California range July 9. (Photos by Sgt. Patrick Eakin, 2ABCT, Public Affairs.)
Wire- A Soldier and KATUSA with Bravo Company, 8th BEB, 2ABCT, train together during a breaching drill. (Photos by Sgt. Patrick Eakin, 2ABCT, Public Affairs.)