22 November 2022
Effective immediately the Columbia-Willamette Chapter has changed its president and meeting place as follows:
COLUMBIA-WILLAMETTE
Pres: Tom Boardman
3216 NE 110th Place
Portland OR 97220
(503) 320-7790
 Email: tomboardman@comcast.net
Meets 1200 2nd Thurs of each month at Elmer's Restaurant, 10001 NE Sandy Blvd, Portland, OR.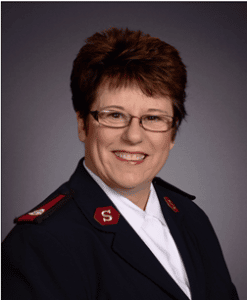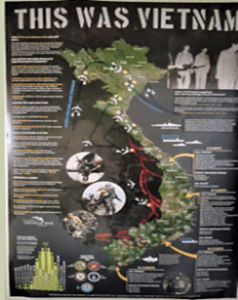 21 September 2022
Call to order July 14th lunch meeting:  Terry mentioned the 25th picnic at the lake, Gordy mentioned a 3' putt gone awry, Barry mentioned the Car show, and Mike C, Treasurer, was AWOL, ill, so we wish him good health.  Steve K brought a poster/map of Vietnam from The National Vietnam War Museum, PO Box 1779, Weatherford, Tx 76086, 940-325-4003, https://www.nationalvnwarmuseum.org/.  This is a newly completed museum if anyone is traveling in the Fort Worth area, they can visit this site just west of the city.  The gift shop sells this poster for $27.  Our own Scott Thompson's picture jumping from a slick was prominently displayed in one of the museum's letters to subscribers.  Scott was famous, bless him.  See poster below.
Maj. Lloyd of the Salvation Army Vet and Family Center, Beaverton, Oregon, came and spoke  about their wonderful support for needy veterans.  The 58 current residents, veterans and their families, are referred and partially funded by the VA.  Jim J and Steve K met Maj. Lloyd of the Salvation Army Vet and Family Center at one of the K9Kavalry events in Tigard and wished she could join us sometime for a description of her mission with veterans, their families, and homelessness.   Supported by 3 case managers, their stay is usually 1-9 months, some longer but always with the goal of placement in a more stable community setting.  Some on hospice, some moving to a sober lifestyle, some escaping domestic violence, and others found homeless, individuals and families have a nurturing and safe respite from uncertainty and hopelessness.  We thank Maj. Lloyd for her time and message and presented the Vietnam poster for their use at 14825 SW Farmington Rd, Beaverton, 503-731-3951, www.veterans.salvationarmy.org .  See Maj. Lloyd's picture below.
27 June 2022
Our members joined other Veterans and community supporters to remember and honor a Navy Veteran's military internment ceremony at the Willamette National Cemetery.  Garnie Craig Hylton, age 70, of Portland, passed away on February 21, 2022. A call goes out for unclaimed Veterans, so no one is left to be forgotten and without honor. There are several events each year and our chapter consider it a measure of brotherhood to show up and be there for our brother Veteran without family to claim them at internment. 
Caption: Graveside service for Garnie was held April 20, 2022, at Willamette National Cemetery
The Oregon Vietnam Memorial in Portland, Oregon, is the most fitting place to be on Memorial Day, 2022.  The 11-acre site is a winding trail with 6 alcoves covering phases of the Vietnam War listing the 808 Oregonians lost by period.  Each alcove highlights political and military connections to the period as well as local events and happenings across Oregon.
Our Chapter joined the 25th Infantry Division chapter at this year's event to witness the reading of all names engraved on the alcoves.  Speakers stressed how the memorial was not a shrine but a living garden of solace, free and open 24 hours every day.  About 20 persons shared the reading of the names, punctuated by occasional comments about brothers, classmates, ranks, MOS, time in country, dates lost, and how they were and are valued.  We share in the honor and respect for our fallen war dead.
20 April 2022
The February meeting of the Columbia-Willamette Chapter passed a motion to support the K9Kavalry.org with $250.00 for the equipping and initial training of a veteran and their dog, new to their program.  This March meeting welcomed Dan Regester, K9K, back to receive our check from Michael Carter, Treasurer.  Dan spoke of this money funding the intake and equipping of Cori and Paige, a Navy PO3 field surgeon, in Uncasville, Ct.  Our best wishes go out to Cori and Paige as they join the "Pack" and may all the benefits of life-affirming bonding between veteran and dog spotlight the healing found within the "Pack".
The Columbia-Willamette Chapter encourages other chapters to explore the K9Kavalry.org, their mission and benefit to veterans and their dogs.  They serve more than just the Northwest, having clients across the country.
The following is Dan Regester's e-mail thanking the chapter for our donation and their future events calendar.
I really enjoy meeting with your crew. Thanks for bringing me back, and for the donation. You know we are putting it to good use. Corine has finished basic training, been in contact with her trainer, had a first session and scheduled a second. our supply dept should get her gear kit ordered today. I'll send pics once it arrives. Also, I'll be shipping the patch you gave me to Corine so she can put it on Paige's vest.
Here's a recap of our events so far for 2022. We would love to see you at any/all of these. But if you had to choose one, choose the Dalles event on May 22nd. That's going to be the most fun and will be jam packed with dogs and dirty racecars.
April 22-24: K9K Training center work party. All dogs, veterans, and volunteers are welcomed. We need an electrician and a plumber, hopefully pro-bono, to help install a new PEX system and a power line for a water heater for our dog bath.
May 7: K9K Dog days of Summer – A muster of Veterans and dogs at Tualatin Community Park in cooperation with Washington County, Or. Meant as an outreach campaign for at-risk Veterans and hopefully find more brothers or sisters to serve.  Live dog training exercises, swag and freebees, refreshments, free to all. Walking distance from the Tualatin VFW. Would love to see some Stetsons in the ranks.
May 20: K9K has a booth at Portland International Raceway for day 1 of Oregon Trail Rally. T-shirt fundraiser and PTSD awareness campaign. This is an evening event and VERY loud.
May 21: K9K has a booth at the Run to Remember hosted by VFW Tualatin and Oregon National Guard. Same objectives as the 20th, only really early in the morning and much quieter.
May 22: Day 3 of Oregon Trail Rally. This stage will either be in Dufur or Goldendale, most likely ending in The Dalles. In the morning, they have an expose' where they show off the cars. Then they race, then gather again for awards. K9K pack members (includes 1st cav) can take photos with the cars, drivers, and other dogs in the pack. Colorado Motorsports will let us take pictures IN their cars, if that's your thing.
June 25: K9K has a booth at the Salute to Veterans Car Show. This event is usually pretty small, in a parking lot, but a lot of fun. It's in Hillsboro.
August 18th: USO golf tournament. Might be good fun for a 1st cav golf team if you can get one together. I can help arrange to make that happen if you are interested. 
This is a lot!  I'll send more information periodically.  Thanks again, and let me know if anyone is interested in our program.  Cheers,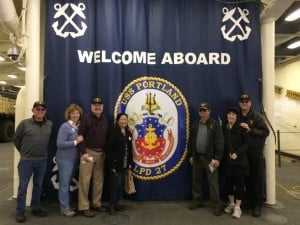 Meeting Information
Meets at 1800 the 3rd Wednesday of each month at the Village Inn located at 1621 NE 10th Ave., Portland OR 97232;  E-mail is tangolima2505@comcast.net.  You can visit our website www.Hood2Hood1stCav.webs.com.