20 April 2022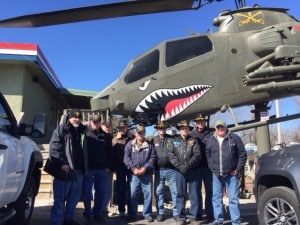 The photo above was taken at our March 12, 2022 meeting.
The Kettle Moraine Chapter of Southeastern Wisconsin met on March 12, 2022 at The Bunker sport's bar in Waterford, Wisconsin to commemorate the chapters' donation of 1st Cav decals on this Vietnam era gunship.  Members standing are (left to right): Gordie Weidner (chapter president), Fred Douglas, Robert Richter,  Mike Kopaczewski, Julius Mianecki, Paul Petersen, Mike Lorber, Jerry Nelson, and Thomas Butnam.  Not pictured: Archie Molina, Bill Burns, Harold Bourne, Joe Bever, and Andy Sabin. The chapter also donated a bronze plaque highlighting the 1st Cav's history.
20 June 2017
Chapter meets quarterly on the second Saturday of March, June and September at 12:00, at the Bunker in Waterford, WI.  On the second Saturday of December at 12:00 (for the elections of officers) at the Meyers Restaurant in Greenfield, WI.