256th Infantry Brigade
Louisiana Army National Guard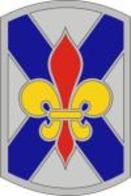 Three elements of the 256th Infantry Brigade: the 156th Infantry Regiment; the 108th Cavalry Regiment; and the 1st Battalion, 141st Field Artillery Regiment, the "Washington Artillery" of New Orleans, trace their history back to the American Civil War where they fought mainly in the eastern theater under Robert E. Lee's Army of Northern Virginia. In September 1838, the Washington Artillery of New Orleans was founded. Its emblem was an irate tiger over crossed cannons, with the motto "Try Us" created by James B. Walton in 1846. During the Civil War, most units were referred to as "Lee's Tigers" or Louisiana Tigers and became the mascot for the Louisiana State University, also known as the "Old War Skule".
Operation Iraqi Freedom III, 2004–2005
During train up for operations in the spring, summer and fall of 2004, the 256th Infantry Brigade was stationed at Fort Hood, Texas. The Brigade then completed a NTC rotation at Fort Irwin, California. The brigade spent an additional month training in the desert of Camp Buehring, Kuwait prior to moving into Iraq.
In 2004–2005 the 256th Brigade was sent to Iraq as part of OIF III (Operation Iraqi Freedom III, the third U.S. military rotation of forces into the area of operations). It served under the 1st Cavalry Division for its first five months and its last several months under the 3rd Infantry Division. During the first half of its combat tour in Iraq some of the brigade's subordinate units also served under the 10th Mountain Division. The brigade served in and around Baghdad, Iraq in a FOB known originally as FOB Victory until 15 June 2004. At this date FOB Victory's name was changed to FOB Liberty because on this date the Iraqi government officially "stood up". Upon the 256th's arrival at North Liberty it became Camp Tigerland. During operations in theater the brigade operated under the configuration of one-third heavy and two-thirds light.
Each battalion in the brigade had one company of heavy forces with M1A1 Abrams main battle tanks, M2A2 Bradley infantry fighting vehicles, or a mixture of the two. The other two thirds operated primarily from HMMWV Gun Trucks that mounted either machine guns or automatic grenade launchers. The field artillery battalion was cannibalized to bring the infantry battalions up to full strength. The remainder of the Washington Artillery was attached to the 1st Cavalry Division base defense operations center (BDOC) under the command of the 103rd Field Artillery Brigade and the XVIII Airborne Corps. One howitzer platoon from the Washington Artillery was used to provide indirect fires in support of FOB Liberty. Additionally, Task Force Bengal was "stood up" as a liaison/training team to equip, train and assist the 40th Iraqi National Guard (ING) Brigade. TF Bengal consisted of Soldiers and officers of the infantry, field artillery, and engineer units from the 256th Brigade as well as the 1st Battalion, 69th Infantry (The Fighting 69th) from New York City which had been attached for the deployment. Attached to the 69th Infantry was Delta 101, a company of tankers and scouts turned infantrymen from New York's 101st Cavalry Regiment. During the American Civil War, the 69th engaged the ancestral units of the 256th many times, so their attachment to each other for OIF provided a symbolic reconciliation 140 years after they fought each other to the death repeatedly from 1861 to 1865. On 21 February 2005, the 40th ING Brigade assumed authority for approximately 16 square kilometers in and around Al Akadhimian and began patrolling with Approximately 2800 Soldiers.
The 256th lost 32 Soldiers in Operation Iraqi Freedom.
Hurricanes Katrina and Rita, 2005
On August 29, 2005, Hurricane Katrina struck the gulf coast of Louisiana and Mississippi while most members of the 256th Infantry Brigade were still serving their final weeks of deployment in Iraq. Following the return of the Brigade to Louisiana, a detachment immediately mobilized to New Orleans to aid Law Enforcement with rescue efforts. With the help of the Louisiana State Police, those efforts transitioned into a support mission for the New Orleans Police Department. Joint Task Force Gator was created to help combat the rise of looting and other crimes resulting from the loss of law enforcement officers in the New Orleans area. After three-and-a-half years of assisting local police and patrolling the city, the Task Force was released from duty on February 28, 2009.
Deployment to Iraq, 2010
On Monday 19 May 2008 Louisiana's 256th BCT was alerted by the Defense Department that they will possibly begin a second tour in Iraq starting in Spring 2010. Brigades from the Texas, Pennsylvania, and Tennessee National Guards were also notified in the same press release. The press release specifically stated tours of duty located in Iraq and Kuwait, and not Afghanistan. The notice of this deployment comes in under three years of the unit's return from their first tour of Iraq in 2004–2005. When the unit deployed in Spring 2010, as scheduled, it had slightly over four years since its last federal deployment.
In February and March 2010, the 256th prepared for deployment to Iraq.
On 5 January 2010, the 256th BCT left for mobilization at Camp Shelby, Mississippi where Soldiers trained for a variety of missions, such as PSD, FOB security, gate guard, convoy security, and more. In early March, they flew out of Gulf Coast Airport in Mississippi.
The brigade was divided into many different sections, being controlled by sustainment brigades and commands. The brigade commander, Colonel Ball, did not command the entire brigade as subordinate units fell under other brigades. While select units returned home in August, the majority of brigade unit deployed back to home station in Louisiana in December 2010.
Organization
Until 2006, the 256th Brigade was a "heavy" brigade that consisted of 2 mechanized infantry battalions (2nd and 3rd Battalions, 156th Infantry Regiment) each equipped with 44 Bradley Fighting Vehicles, 1 armor battalion (1st Battalion, 156th Armored Regiment) equipped with 44 Abrams Main Battle Tanks, and a self-propelled artillery battalion (1st Battalion, 141st Artillery Regiment) that was equipped with (18) 155 mm howitzers. This was known as an HBCT (Heavy Brigade Combat Team). As of 1 September 2006, the 256th Brigade has transitioned to a light configuration of two infantry battalions, a battalion of towed artillery, and one cavalry squadron for reconnaissance. This new organization is known as an IBCT (Infantry Brigade Combat Team) which will have a little over 3 and a half thousand Soldiers when at full strength. The HBCT and IBCT along with the SBCT (Stryker Brigade Combat Team) are to be the three organizations that will make up the future army's ground force maneuver units that will project combat power on land.
The new organization consists of 6 light infantry companies, 2 anti-tank companies armed with TOW missiles, 2 mounted recon troops, 1 dismounted recon troop, and 2 batteries of towed artillery with 105mm cannons with 8 cannons each. The brigade will also have a support battalion and a special troops battalion for CS (Combat Support). These 2 battalions will possess support units such as signal, intelligence, military police, combat engineers, transportation, quartermaster (supply), maintenance, and medical.

Ghosts of Fallujah
Ghosts of Fallujah (written by Coley D. Tyler) is a first person account of the Second Battalion, Seventh Cavalry's participation in the Second Battle of Fallujah, the largest single engagement of the Iraq War and the largest urban battle since Hue in 1968. A First Marine Division operation, it was spearheaded by one of the […]

Public Request for Division Assets (Band/Horse Cav Detachment/Honor Guard)
Need to request a Division asset: the Band, Horse CAV Detachment, or Honor Guard? Fill out the provided DD Form 2536 and email it to: SFC Kristin M. Chandler at usarmy.hood.1-cd.mbx.1cd-division-comrel@mail.mil.  If you have any questions about filling out the form call SFC Chandler at 254-288-2601. DD2536 Asset Request Form