9th Cavalry Regiment
Distinctive Unit Insignia and Coat of Arms
Description
A gold color metal and enamel device 1 1/8 inches (2.86cm) in height overall: An Indian in breech clout and war bonnet, mounted on a galloping pony, brandishing a rifle in his right and holding a single rein in his left hand, all in gold, displayed upon a five-bastioned fort in blue edged with gold.
Symbolism
The five-bastioned fort was the badge of the Fifth Army Corps in Cuba, of which the Ninth Cavalry was a part. The yellow outline is for the Cavalry, and the blue for active service in the Spanish-American War. The mounted Indian represents the Indian campaigns of the Regiment.
Background
Originally approved for the 9th Cavalry on 22 Oct 1925. Redesignated for the 509th Tank Battalion on 23 May 1951. On 31 July 1951, the symbolism was amended. The distinctive unit insignia was redesignated for the 9th Cavalry on 1 Oct 1958.
Coat of Arms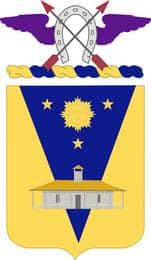 Blazon
Shield: Or, on a pile Azure in Chief a sun of eight points of rays between three five-bastioned mullets two and one of the field, in base overall the blockhouse of San Juan Hill, Santiago, Cuba, Proper.
Crest: On a wreath of the colors a horseshoe with nine nail holes heels down Argent winged Purpure debruised by two arrows in saltire Sable armed and flitted Gules.
Motto: WE CAN, WE WILL.
Symbolism
Shield: The regiment was organized in 1866.  The field is yellow for the Cavalry and blue triangle with the sun and three five-pointed stars are from the old flag of the Philippine Insurrection with a change of color.  The three stars represent the three tours of duty in the Islands.  The blockhouse is the old pride of the regiment, a representation of the actual one which was taken at San Juan, Santiago, Cuba, in 1898.  The wedge is blue in color and recalls the fact that the 9th split the Spanish line at Santiago with the capture of the blockhouse when they charged dismounted as Infantry.
Crest: The crest is the well-known Scotch device signifying the alertness of the mounted man and the arrows are for the old Indian campaigns of the regiment.
Background: The coat of arms was originally approved on 10 Apr 1922.  It was amended on 4 Oct 1922 and further amended on 29 Aug 1924.  On 28 May 1951, the coat of arms was redesignated for the 509th Tank Battalion.  It was redesignated for the 9th Cavalry on 1 Oct 1958.  The coat of arms' symbolism was amended on 23 Jun 1960.

Ghosts of Fallujah
Ghosts of Fallujah (written by Coley D. Tyler) is a first person account of the Second Battalion, Seventh Cavalry's participation in the Second Battle of Fallujah, the largest single engagement of the Iraq War and the largest urban battle since Hue in 1968. A First Marine Division operation, it was spearheaded by one of the […]

Public Request for Division Assets (Band/Horse Cav Detachment/Honor Guard)
Need to request a Division asset: the Band, Horse CAV Detachment, or Honor Guard? Fill out the provided DD Form 2536 and email it to: SFC Kristin M. Chandler at usarmy.hood.1-cd.mbx.1cd-division-comrel@mail.mil.  If you have any questions about filling out the form call SFC Chandler at 254-288-2601. DD2536 Asset Request Form