4th Brigade, 1st Cavalry Division
"Long Knife"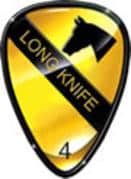 Headquarters and Headquarters Company, 4th Brigade, 1st Cavalry Division was constituted on 15 May 1971 in the Regular Army and activated at Fort Hood, Texas as an Airmobile Infantry Brigade.  This unit fit into the Triple Capability (TRICAP) structure of the 1st Cavalry Division that had just returned from Vietnam.
The Brigade was inactivated on 30 June 1972 at Fort Hood, Texas and remained inactive for the next 13 years.
On 18 October 2005, the 4th Brigade Combat Team (BCT), 1st Cavalry Division was activated in a colorful ceremony held at Noel Field, Fort Bliss, Texas.  Units assigned to the Brigade include: 1st Squadron, 2nd Battalion, 7th Cavalry "Ghost"; 9th Cavalry "Head Hunters"; 2nd Battalion, 12th Cavalry "Thunderhorse"; 27th Brigade Support Battalion "Rough Riders"; 5th Battalion, 82nd Field Artillery "Black Dragons"; and 4th "Spartans" Brigade Special Troops Battalion.
On the one year anniversary of the unit's activation, the 4th Brigade Combat Team deployed to Iraq in support of Operation IRAQI FREEDOM 05-07.  On 9 December 2006, the 4th BCT assumed responsibility of Ninawa province from the 3rd Stryker Brigade Combat Team, 2nd Infantry Division.  The 2-12 Cavalry deployed to Baghdad to augment 1st Cavalry Division efforts in the capital city.
The mission of the Brigade was to build capable Iraqi security forces and to conduct counter-insurgency operations to neutralize anti-Iraqi forces.  In December 2007, the brigade transferred authority to the 3rd Armored Cavalry Regiment and returned to Texas following their 14-month deployment.  In March 2008, the 4th Brigade Combat Team (Cobras) from the 4th Infantry Division was re-flagged as the 4th Brigade Combat Team, 1st Cavalry Division at Cooper Field on Fort Hood, Texas.
During the train-up of the 4th CBT for deployment, the unit conducted rotations at both the National Training Center (NTC) and the Joint Readiness Training Center (JRTC).  In June 2008 the Brigade deployed to three provinces in southern Iraq in support of Multi-National Division-South during Operation IRAQI FREEDOM 08-10.  The Brigade headquarters along with four battalions, including a Romanian Infantry battalion, were located at COB Adder in Dhi Qar Province, and three battalions were located in Maysan Province at FOB Garryowen in the north, FOB Hunter in the south and along the Iraq-Iran border.  On 4 June 2009 the Brigade transferred authority to the 4th Brigade, 1st Armored Division and redeployed back to Fort Hood, Texas.
The "Long Knife" Brigade again deployed for its third and final deployment to Iraq in September 2010 for another year and deployed to Afghanistan for 9 months from October 2012 to July 2013.
The 4th "Long Knife" Brigade Combat Team, 1st Cavalry Division, was inactivated on 17 October 2013 at Fort Hood, Texas.   Since being reactivated in 2005, the 4th BCT spent 47 of 96 months deployed in three deployments to Iraq and one to Afghanistan.
Headquarters, 4th Brigade Combat Team, 1st Cavalry Division
Lineage and Honors
​As of 19 December 2007
Lineage
Constituted 15 May 1971 in the Regular Army as Headquarters and Headquarters Company, 4th Brigade, 1st Cavalry Division, and activated at Fort Hood, Texas
Inactivated 30 June 1972 at Fort Hood, Texas
Headquarters, 4th Brigade, 1st Cavalry Division, redesignated 16 October 2005 as Headquarters, 4th Brigade Combat Team, 1st Cavalry Division, and activated at Fort Bliss, Texas (Headquarters Company, 4th Brigade, 1st Cavalry Division – hereafter separate lineage)
Honors
 Campaign Participation Credit
War on Terrorism: Afghanistan 2012-2013

Decorations
Meritorious Unit Commendation, Order No. 096-004

Ghosts of Fallujah
Ghosts of Fallujah (written by Coley D. Tyler) is a first person account of the Second Battalion, Seventh Cavalry's participation in the Second Battle of Fallujah, the largest single engagement of the Iraq War and the largest urban battle since Hue in 1968. A First Marine Division operation, it was spearheaded by one of the […]

Public Request for Division Assets (Band/Horse Cav Detachment/Honor Guard)
Need to request a Division asset: the Band, Horse CAV Detachment, or Honor Guard? Fill out the provided DD Form 2536 and email it to: SFC Kristin M. Chandler at usarmy.hood.1-cd.mbx.1cd-division-comrel@mail.mil.  If you have any questions about filling out the form call SFC Chandler at 254-288-2601. DD2536 Asset Request Form