7th Squadron, 17th Cavalry Regiment
"Palehorse"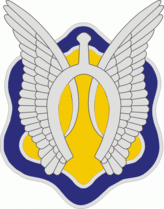 The 17th Cavalry Regiment was first organized under the provisions of the National Defense Act of 1916 at Fort Bliss, TX on 30 June 1916 and constituted on 1 July 1916. At that time, General Pershing had taken U.S. Military formations into Mexico only a short time earlier and the need for Cavalry troops was pressing.
Originally organized as G Troop, 17th Cavalry Regiment; the 7th Squadron, 17th Cavalry Regiment was formally reactivated on 25 November 1966. The Squadron adopted the name "Ruthless Riders" and shortly thereafter, deployed to Vietnam on 28 October 1967 as a separate Air Cavalry Squadron of the 1st Aviation Brigade. The Squadron mission was to provide reconnaissance and security for the 4th Infantry Division and other allied units. The Squadron routinely conducted successful combat operations, gathered valuable intelligence, and killed and captured enemy Soldiers. For their achievements and distinguished combat service, the Squadron was awarded a Presidential Unit Citation and four Valorous Unit Awards for their actions in Vietnam.
The Squadron saw post-war service at Fort Hood, Texas, where they were assigned to 1st Cavalry Division and 6th Air Cavalry Combat Brigade, Fort Hood Texas, where they served as an attack helicopter squadron. The 7th Squadron, 17th Cavalry Regiment was again inactivated on 16 July 1986.
In 2001, the organization of the U.S. Army significantly changed as a result of transformation to fight the Global War on Terror. Prior to their deployment to Operation Iraqi Freedom III, 1st Squadron, 17th Cavalry Regiment, 82d Airborne Division was directed to move from Fort Bragg, North Carolina to Fort Campbell, Kentucky in early spring of 2006. In anticipation of their move, the 1-17th Cavalry adopted the designation as the "Palehorse" Squadron with the motto of "Death Rides." Following a successful deployment in support of Operation Iraqi Freedom III, the Squadron was re-designated as 7th Squadron, 17th Cavalry regiment on 10 April 2006, serving as part of the 159th Combat Aviation Brigade, 101st Airborne Division (Air Assault), Fort Campbell, Kentucky.
In December 2008, the Squadron deployed to Afghanistan in support of Operation Enduring Freedom, establishing a base of operations at FOB Fenty, Jalalabad, Afghanistan. The Squadron served valiantly, earning a Meritorious Unit Commendation, a Valorous Unit Award, and was recognized as the Army's Top Aviation unit for their heroic and steadfast combat actions in the tough terrain and highly contested areas of Regional Command-East.
Approximately one year from their return from Jalalabad, the Squadron returned to Afghanistan in December 2010; this time establishing operations in Kandahar, Afghanistan, where they conducted, aggressive reconnaissance and security missions, as well as air assault security and training assistance to the Afghan Air Corps.
Elements of the squadron again deployed in support of Operation Enduring Freedom in late 2013, where they exemplified the cavalry spirit by providing reconnaissance, security, quick reaction force and FOB defense operations in both RC-East and RC-South. The actions and efforts of the Palehorse Soldiers were also integral in providing security during Afghanistan's Presidential Elections in 2014.
7th Squadron, 17th Cavalry Regiment was de-activated on 17 July 2015 at Fort Campbell, Kentucky as part of the Army Aviation Restructuring Initiative, but its distinguished lineage and legacy will live on as the Palehorse Squadron was reactivated as part of the 1st Air Cavalry Brigade, 1st Cavalry Division on 22 October 2015 at Fort Hood, Texas.

Ghosts of Fallujah
Ghosts of Fallujah (written by Coley D. Tyler) is a first person account of the Second Battalion, Seventh Cavalry's participation in the Second Battle of Fallujah, the largest single engagement of the Iraq War and the largest urban battle since Hue in 1968. A First Marine Division operation, it was spearheaded by one of the […]

Public Request for Division Assets (Band/Horse Cav Detachment/Honor Guard)
Need to request a Division asset: the Band, Horse CAV Detachment, or Honor Guard? Fill out the provided DD Form 2536 and email it to: SFC Kristin M. Chandler at usarmy.hood.1-cd.mbx.1cd-division-comrel@mail.mil.  If you have any questions about filling out the form call SFC Chandler at 254-288-2601. DD2536 Asset Request Form