PFC Melvin L. Brown*
Medal of Honor Citation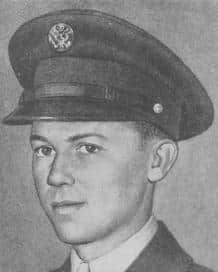 Rank and organization: Private First Class, U.S. Army, Company D, 8th Engineer Combat Battalion
Place and date: Near Kasan, Korea, 4 September 1950
Entered service at: Erie, Pennsylvania
Birth: 22 February 1931, Mahaffey, Pennsylvania
G.O. No.: 11, 16 February 1951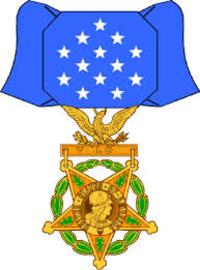 Citation: PFC Brown, Company D distinguished himself by conspicuous gallantry and intrepidity above and beyond the call of duty in action against the enemy. While his platoon was securing Hill 755 (the Walled City), the enemy, using heavy automatic weapons and small arms, counterattacked. Taking a position on a 50-foot-high wall he delivered heavy rifle fire on the enemy. His ammunition was soon expended and although wounded, he remained at his post and threw his few grenades into the attackers causing many casualties. When his supply of grenades was exhausted his comrades from nearby foxholes tossed others to him and he left his position, braving a hail of fire, to retrieve and throw them at the enemy. The attackers continued to assault his position and PFC Brown weaponless, drew his entrenching tool from his pack and calmly waited until they 1 by 1 peered over the wall, delivering each a crushing blow upon the head. Knocking 10 or 12 enemy from the wall, his daring action so inspired his platoon that they repelled the attack and held their position. PFC Brown's extraordinary heroism, gallantry, and intrepidity reflect the highest credit upon himself and was in keeping with the honored traditions of the military service.
*Awarded Posthumously
Reported missing in action and officially killed in action, September 5, 1950.  PFC Brown's Medal of Honor was presented to his father by President Harry S. Truman on 16 February 1951 in a ceremony conducted at the White House.  He is buried in Mahaffey, Pennsylvania.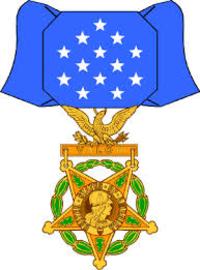 The Medal of Honor
Description: A gold five pointed star, each point tipped with trefoils, 1½ inches wide, surrounded by a green laurel wreath and suspended from a gold bar inscribed "VALOR", surmounted by an eagle.  In the center of the star, Minerva's head surrounded by the words "UNITED STATES OF AMERICA."  On each ray of the star is a green oak leaf.  On the reverse is a bar engraved "THE CONGRESS TO" with a space for engraving the name of the recipient.
Congressional Medal of Honor Society web page: https://www.cmohs.org/
History of the Medal of Honor: https://www.army.mil/medalofhonor/history.html
Medal of Honor – The History (A Vimeo Video Documentary Rivr Digital): https://vimeo.com/100896594

Ghosts of Fallujah
Ghosts of Fallujah (written by Coley D. Tyler) is a first person account of the Second Battalion, Seventh Cavalry's participation in the Second Battle of Fallujah, the largest single engagement of the Iraq War and the largest urban battle since Hue in 1968. A First Marine Division operation, it was spearheaded by one of the […]

Public Request for Division Assets (Band/Horse Cav Detachment/Honor Guard)
Need to request a Division asset: the Band, Horse CAV Detachment, or Honor Guard? Fill out the provided DD Form 2536 and email it to: SFC Kristin M. Chandler at usarmy.hood.1-cd.mbx.1cd-division-comrel@mail.mil.  If you have any questions about filling out the form call SFC Chandler at 254-288-2601. DD2536 Asset Request Form