1LT Lloyd L. Burke
Medal of Honor Citation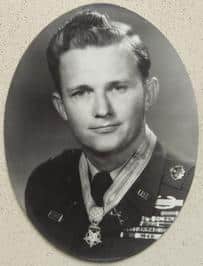 Rank and organization: First Lieutenant, U.S. Army, Company G, 5th Cavalry Regiment, 1st Cavalry Division
Place and date: Near Chong-dong, Korea, 28 October 1951
Entered service at: Stuttgart, Arkansas
Born: 29 September 1924, Tichnor, Arkansas
G.O. No.: 43.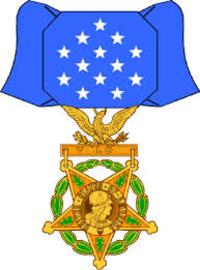 Citation: 1LT Burke, distinguished himself by conspicuous gallantry and outstanding courage above and beyond the call of duty in action against the enemy. Intense enemy fire had pinned down leading elements of his company committed to secure commanding ground when 1LT Burke left the command post to rally and urge the men to follow him toward 3 bunkers impeding the advance. Dashing to an exposed vantage point he threw several grenades at the bunkers, then, returning for an Ml rifle and adapter, he made a lone assault, wiping out the position and killing the crew. Closing on the center bunker he lobbed grenades through the opening and, with his pistol, killed 3 of its occupants attempting to surround him. Ordering his men forward he charged the third emplacement, catching several grenades in midair and hurling them back at the enemy. Inspired by his display of valor his men stormed forward, overran the hostile position, but were again pinned down by increased fire. Securing a light machine gun and 3 boxes of ammunition, 1LT Burke dashed through the impact area to an open knoll, set up his gun and poured a crippling fire into the ranks of the enemy, killing approximately 75. Although wounded, he ordered more ammunition, reloading and destroying 2 mortar emplacements and a machine gun position with his accurate fire. Cradling the weapon in his arms he then led his men forward, killing some 25 more of the retreating enemy and securing the objective. 1LT Burke's heroic action and daring exploits inspired his small force of 35 troops. His unflinching courage and outstanding leadership reflect the highest credit upon himself, the infantry, and the U.S. Army.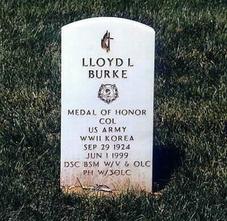 1LT Burke was awarded the Medal of Honor by President Harry S. Truman in a ceremony conducted at the White House on 11 April 1952.  COL (Ret) Lloyd L. "Scooter" Burke died on 1 June 1999 and is buried in Arlington National Cemetery.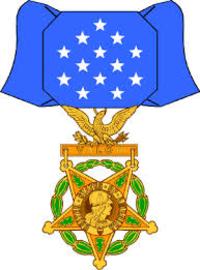 The Medal of Honor
Description: A gold five pointed star, each point tipped with trefoils, 1½ inches wide, surrounded by a green laurel wreath and suspended from a gold bar inscribed "VALOR", surmounted by an eagle.  In the center of the star, Minerva's head surrounded by the words "UNITED STATES OF AMERICA."  On each ray of the star is a green oak leaf.  On the reverse is a bar engraved "THE CONGRESS TO" with a space for engraving the name of the recipient.
Congressional Medal of Honor Society web page: https://www.cmohs.org/
History of the Medal of Honor: https://www.army.mil/medalofhonor/history.html
Medal of Honor – The History (A Vimeo Video Documentary Rivr Digital): https://vimeo.com/100896594

Ghosts of Fallujah
Ghosts of Fallujah (written by Coley D. Tyler) is a first person account of the Second Battalion, Seventh Cavalry's participation in the Second Battle of Fallujah, the largest single engagement of the Iraq War and the largest urban battle since Hue in 1968. A First Marine Division operation, it was spearheaded by one of the […]

Public Request for Division Assets (Band/Horse Cav Detachment/Honor Guard)
Need to request a Division asset: the Band, Horse CAV Detachment, or Honor Guard? Fill out the provided DD Form 2536 and email it to: SFC Kristin M. Chandler at usarmy.hood.1-cd.mbx.1cd-division-comrel@mail.mil.  If you have any questions about filling out the form call SFC Chandler at 254-288-2601. DD2536 Asset Request Form