SGT David C. Dolby
Medal of Honor Citation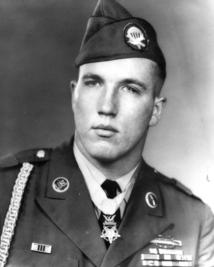 Rank and organization: Sergeant (then Sp4c.), U.S. Army, Company B, 1st Battalion (Airborne), 8th Cavalry, 1st Cavalry Division (Airmobile)
Place and date: Republic of Vietnam, 21 May 1966
Entered service at: Philadelphia, Pennsylvania
Born: 14 May 1946, Norristown, Pennsylvania
G.O. No.: 45, 20 October 1967.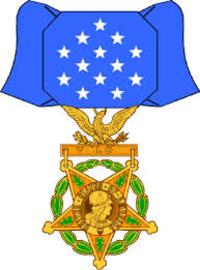 Citation: For conspicuous gallantry and intrepidity at the risk of life above and beyond the call of duty, when his platoon, while advancing tactically, suddenly came under intense fire from the enemy located on a ridge immediately to the front. Six members of the platoon were killed instantly and a number were wounded, including the platoon leader. SGT Dolby's every move brought fire from the enemy. However, aware that the platoon leader was critically wounded, and that the platoon was in a precarious situation, SGT Dolby moved the wounded men to safety and deployed the remainder of the platoon to engage the enemy. Subsequently, his dying platoon leader ordered SGT Dolby to withdraw the forward elements to rejoin the platoon. Despite the continuing intense enemy fire and with utter disregard for his own safety, SGT Dolby positioned able-bodied men to cover the withdrawal of the forward elements, assisted the wounded to the new position, and he, alone, attacked enemy positions until his ammunition was expended. Replenishing his ammunition, he returned to the area of most intense action, single-handedly killed 3 enemy machine gunners and neutralized the enemy fire, thus enabling friendly elements on the flank to advance on the enemy redoubt. He defied the enemy fire to personally carry a seriously wounded Soldier to safety where he could be treated and, returning to the forward area, he crawled through withering fire to within 50 meters of the enemy bunkers and threw smoke grenades to mark them for air strikes. Although repeatedly under fire at close range from enemy snipers and automatic weapons, SGT Dolby directed artillery fire on the enemy and succeeded in silencing several enemy weapons. He remained in his exposed location until his comrades had displaced to more secure positions. His actions of unsurpassed valor during 4 hours of intense combat were a source of inspiration to his entire company, contributed significantly to the success of the overall assault on the enemy position, and were directly responsible for saving the lives of a number of his fellow Soldiers. SGT Dolby's heroism was in the highest tradition of the U.S. Army.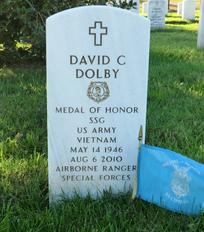 President Lyndon B. Johnson presented SGT David C. Dolby the Medal of Honor on 28 September 1967 in the East Room of the White House.  SGT Dolby died on 6 August 2010 and is buried in Arlington National Cemetery.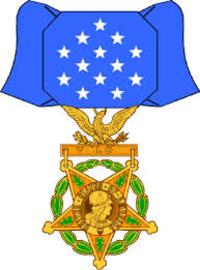 The Medal of Honor
Description: A gold five pointed star, each point tipped with trefoils, 1½ inches wide, surrounded by a green laurel wreath and suspended from a gold bar inscribed "VALOR", surmounted by an eagle.  In the center of the star, Minerva's head surrounded by the words "UNITED STATES OF AMERICA."  On each ray of the star is a green oak leaf.  On the reverse is a bar engraved "THE CONGRESS TO" with a space for engraving the name of the recipient.
Congressional Medal of Honor Society web page: https://www.cmohs.org/
History of the Medal of Honor: https://www.army.mil/medalofhonor/history.html
Medal of Honor – The History (A Vimeo Video Documentary Rivr Digital): https://vimeo.com/100896594

Ghosts of Fallujah
Ghosts of Fallujah (written by Coley D. Tyler) is a first person account of the Second Battalion, Seventh Cavalry's participation in the Second Battle of Fallujah, the largest single engagement of the Iraq War and the largest urban battle since Hue in 1968. A First Marine Division operation, it was spearheaded by one of the […]

Public Request for Division Assets (Band/Horse Cav Detachment/Honor Guard)
Need to request a Division asset: the Band, Horse CAV Detachment, or Honor Guard? Fill out the provided DD Form 2536 and email it to: SFC Kristin M. Chandler at usarmy.hood.1-cd.mbx.1cd-division-comrel@mail.mil.  If you have any questions about filling out the form call SFC Chandler at 254-288-2601. DD2536 Asset Request Form