CW2 Fredrick E. Ferguson
Medal of Honor Citation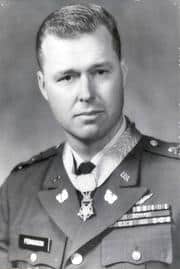 Rank and organization: Chief Warrant Officer, U.S. Army, Company C, 227th Aviation Battalion, 1st Cavalry Division (Airmobile)
Place and date: Hue, Republic of Vietnam, 31 January 1968
Entered service at: Phoenix, Arizona
Born: 18 August 1939, Pilot Point, Texas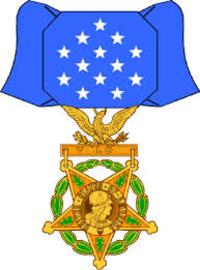 Citation: For conspicuous gallantry and intrepidity in action at the risk of his life above and beyond the call of duty. CWO Ferguson, U.S. Army distinguished himself while serving with Company C. CWO Ferguson, commander of a resupply helicopter monitoring an emergency call from wounded passengers and crewmen of a downed helicopter under heavy attack within the enemy controlled city of Hue, unhesitatingly volunteered to attempt evacuation. Despite warnings from all aircraft to stay clear of the area due to heavy antiaircraft fire, CWO Ferguson began a low-level night at maximum airspeed along the Perfume River toward the tiny, isolated South Vietnamese Army compound in which the crash survivors had taken refuge. Coolly and skillfully maintaining his course in the face of intense, short range fire from enemy occupied buildings and boats, he displayed superior flying skill and tenacity of purpose by landing his aircraft in an extremely confined area in a blinding dust cloud under heavy mortar and small-arms fire. Although the helicopter was severely damaged by mortar fragments during the loading of the wounded, CWO Ferguson disregarded the damage and, taking off through the continuing hail of mortar fire, he flew his crippled aircraft on the return route through the rain of fire that he had experienced earlier and safely returned his wounded passengers to friendly control. CWO Ferguson's extraordinary determination saved the lives of 5 of his comrades. His actions are in the highest traditions of the military service and reflect great credit on himself and the U.S. Army.
MAJ (Ret) Fredrick Ferguson was awarded the Medal of Honor by President Richard M. Nixon in a White House ceremony on 16 May 1969.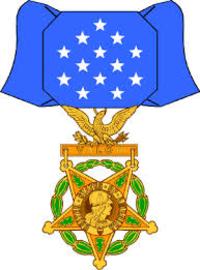 The Medal of Honor
Description: A gold five pointed star, each point tipped with trefoils, 1½ inches wide, surrounded by a green laurel wreath and suspended from a gold bar inscribed "VALOR", surmounted by an eagle.  In the center of the star, Minerva's head surrounded by the words "UNITED STATES OF AMERICA."  On each ray of the star is a green oak leaf.  On the reverse is a bar engraved "THE CONGRESS TO" with a space for engraving the name of the recipient.
Congressional Medal of Honor Society web page: https://www.cmohs.org/
History of the Medal of Honor: https://www.army.mil/medalofhonor/history.html
Medal of Honor – The History (A Vimeo Video Documentary Rivr Digital): https://vimeo.com/100896594

Ghosts of Fallujah
Ghosts of Fallujah (written by Coley D. Tyler) is a first person account of the Second Battalion, Seventh Cavalry's participation in the Second Battle of Fallujah, the largest single engagement of the Iraq War and the largest urban battle since Hue in 1968. A First Marine Division operation, it was spearheaded by one of the […]

Public Request for Division Assets (Band/Horse Cav Detachment/Honor Guard)
Need to request a Division asset: the Band, Horse CAV Detachment, or Honor Guard? Fill out the provided DD Form 2536 and email it to: SFC Kristin M. Chandler at usarmy.hood.1-cd.mbx.1cd-division-comrel@mail.mil.  If you have any questions about filling out the form call SFC Chandler at 254-288-2601. DD2536 Asset Request Form