1LT Douglas B. Fournet*
Medal of Honor Citation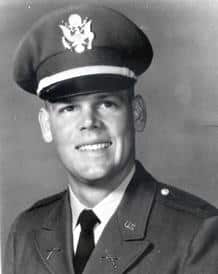 Rank and organization: First Lieutenant, U.S. Army, Company B, 1st Battalion, 7th Cavalry, 1st Cavalry Division (Airmobile).
Place and date: A Shau Valley, Republic of Vietnam, 4 May 1968
Entered service at: New Orleans, Louisiana
Born: 7 May 1943, Lake Charles, Louisiana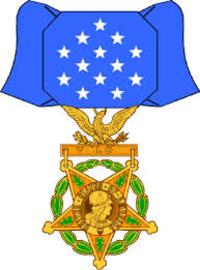 Citation: For conspicuous gallantry and intrepidity in action at the risk of his life above and beyond the call of duty. 1LT Fournet, Infantry, distinguished himself in action while serving as rifle platoon leader of the 2d Platoon, Company B. While advancing uphill against fortified enemy positions in the A Shau Valley, the platoon encountered intense sniper fire, making movement very difficult. The right flank man suddenly discovered an enemy claymore mine covering the route of advance and shouted a warning to his comrades. Realizing that the enemy would also be alerted, 1LT Fournet ordered his men to take cover and ran uphill toward the mine, drawing a sheath knife as he approached it. With complete disregard for his safety and realizing the imminent danger to members of his command, he used his body as a shield in front of the mine as he attempted to slash the control wires leading from the enemy positions to the mine. As he reached for the wire the mine was detonated, killing him instantly. Five men nearest the mine were slightly wounded, but 1LT Fournet's heroic and unselfish act spared his men of serious injury or death. His gallantry and willing self-sacrifice are in keeping with the highest traditions of the military service and reflect great credit upon himself, his unit, and the U.S. Army.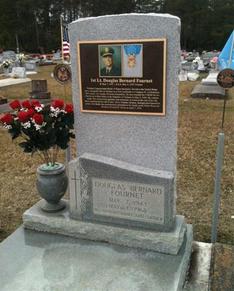 *Awarded posthumously
President Nixon awarded the Medal of Honor to his Family in a White House ceremony conducted on 7 April 1970.  1LT Fournet is buried in Kinder, Louisiana.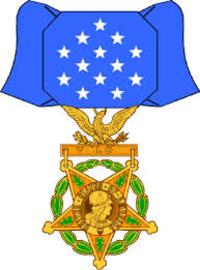 The Medal of Honor
Description: A gold five pointed star, each point tipped with trefoils, 1½ inches wide, surrounded by a green laurel wreath and suspended from a gold bar inscribed "VALOR", surmounted by an eagle.  In the center of the star, Minerva's head surrounded by the words "UNITED STATES OF AMERICA."  On each ray of the star is a green oak leaf.  On the reverse is a bar engraved "THE CONGRESS TO" with a space for engraving the name of the recipient.
Congressional Medal of Honor Society web page: https://www.cmohs.org/
History of the Medal of Honor: https://www.army.mil/medalofhonor/history.html
Medal of Honor – The History (A Vimeo Video Documentary Rivr Digital): https://vimeo.com/100896594

Ghosts of Fallujah
Ghosts of Fallujah (written by Coley D. Tyler) is a first person account of the Second Battalion, Seventh Cavalry's participation in the Second Battle of Fallujah, the largest single engagement of the Iraq War and the largest urban battle since Hue in 1968. A First Marine Division operation, it was spearheaded by one of the […]

Public Request for Division Assets (Band/Horse Cav Detachment/Honor Guard)
Need to request a Division asset: the Band, Horse CAV Detachment, or Honor Guard? Fill out the provided DD Form 2536 and email it to: SFC Kristin M. Chandler at usarmy.hood.1-cd.mbx.1cd-division-comrel@mail.mil.  If you have any questions about filling out the form call SFC Chandler at 254-288-2601. DD2536 Asset Request Form