SP5 Charles C. Hagemeister
Medal of Honor Citation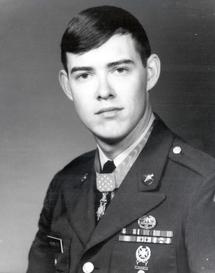 Rank and organization: Specialist Fifth Class (then SPC4) U .S. Army, HHC, 1st Battalion, 5th Cavalry, 1st Cavalry Division (Airmobile)
Place and date: Binh Dinh Province, Republic of Vietnam, 20 March 1967
Entered service at: Lincoln, Nebraska
Born: 21 August 1946, Lincoln, Nebraska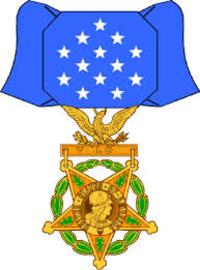 Citation: For conspicuous gallantry and intrepidity in action at the risk of his life above and beyond the call of duty. While conducting combat operations against a hostile force, SPC5 Hagemeister's platoon suddenly came under heavy attack from 3 sides by an enemy force occupying well concealed, fortified positions and supported by machine guns and mortars. Seeing 2 of his comrades seriously wounded in the initial action, SPC5 Hagemeister unhesitatingly and with total disregard for his safety, raced through the deadly hail of enemy fire to provide them medical aid. Upon learning that the platoon leader and several other Soldiers also had been wounded, SPC5 Hagemeister continued to brave the withering enemy fire and crawled forward to render lifesaving treatment and to offer words of encouragement. Attempting to evacuate the seriously wounded Soldiers, SPC5 Hagemeister was taken under fire at close range by an enemy sniper. Realizing that the lives of his fellow Soldiers depended on his actions, SPC5 Hagemeister seized a rifle from a fallen comrade, killed the sniper, 3 other enemy Soldiers who were attempting to encircle his position and silenced an enemy machine gun that covered the area with deadly fire. Unable to remove the wounded to a less exposed location and aware of the enemy's efforts to isolate his unit, he dashed through the fusillade of fire to secure help from a nearby platoon. Returning with help, he placed men in positions to cover his advance as he moved to evacuate the wounded forward of his location. These efforts successfully completed, he then moved to the other flank and evacuated additional wounded men despite the fact that his every move drew fire from the enemy. SPC5 Hagemeister's repeated heroic and selfless actions at the risk of his life saved the lives of many of his comrades and inspired their actions in repelling the enemy assault. SPC5 Hagemeister's indomitable courage was in the highest traditions of the U.S. Armed Forces and reflect great credit upon himself.
SP5 Hagemeister was awarded the Medal of Honor by President Lyndon B. Johnson in a White House ceremony on 14 May 1968.  He later became a commissioned officer and reached the rank of Lieutenant Colonel before retiring.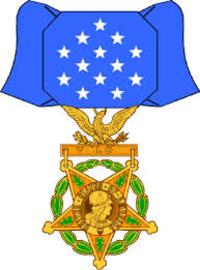 The Medal of Honor
Description: A gold five pointed star, each point tipped with trefoils, 1½ inches wide, surrounded by a green laurel wreath and suspended from a gold bar inscribed "VALOR", surmounted by an eagle.  In the center of the star, Minerva's head surrounded by the words "UNITED STATES OF AMERICA."  On each ray of the star is a green oak leaf.  On the reverse is a bar engraved "THE CONGRESS TO" with a space for engraving the name of the recipient.
Congressional Medal of Honor Society web page: https://www.cmohs.org/
History of the Medal of Honor: https://www.army.mil/medalofhonor/history.html
Medal of Honor – The History (A Vimeo Video Documentary Rivr Digital): https://vimeo.com/100896594

Ghosts of Fallujah
Ghosts of Fallujah (written by Coley D. Tyler) is a first person account of the Second Battalion, Seventh Cavalry's participation in the Second Battle of Fallujah, the largest single engagement of the Iraq War and the largest urban battle since Hue in 1968. A First Marine Division operation, it was spearheaded by one of the […]

Public Request for Division Assets (Band/Horse Cav Detachment/Honor Guard)
Need to request a Division asset: the Band, Horse CAV Detachment, or Honor Guard? Fill out the provided DD Form 2536 and email it to: SFC Kristin M. Chandler at usarmy.hood.1-cd.mbx.1cd-division-comrel@mail.mil.  If you have any questions about filling out the form call SFC Chandler at 254-288-2601. DD2536 Asset Request Form