2LT Robert R. Leisy*
Medal of Honor Citation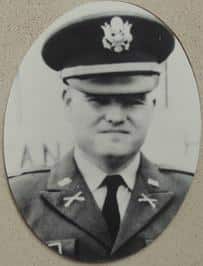 Rank and organization: Second Lieutenant, U.S. Army, Infantry, Company B, 1st Battalion, 8th Cavalry, 1st Cavalry Division
Place and date: Phuoc Long province, Republic of Vietnam, 2 December 1969
Entered service at: Seattle, Washington
Born: 1 March 1945, Stockton, California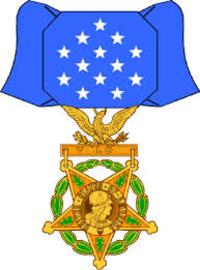 Citation: For conspicuous gallantry and intrepidity in action at the risk of his life above and beyond the call of duty. 2LT Leisy, Infantry, Company B, distinguished himself while serving as platoon leader during a reconnaissance mission. One of his patrols became heavily engaged by fire from a numerically superior enemy force located in a well-entrenched bunker complex. As 2LT Leisy deployed the remainder of his platoon to rescue the beleaguered patrol, the platoon also came under intense enemy fire from the front and both flanks. In complete disregard for his safety, 2LT Leisy moved from position to position deploying his men to effectively engage the enemy. Accompanied by his radio operator he moved to the front and spotted an enemy sniper in a tree in the act of firing a rocket-propelled grenade at them. Realizing there was neither time to escape the grenade nor shout a warning, 2LT Leisy unhesitatingly, and with full knowledge of the consequences, shielded the radio operator with his body and absorbed the full impact of the explosion. This valorous act saved the life of the radio operator and protected other men of his platoon who were nearby from serious injury. Despite his mortal wounds, 2LT Leisy calmly and confidently continued to direct the platoon's fire. When medical aid arrived, 2LT Leisy valiantly refused attention until the other seriously wounded were treated. His display of extraordinary courage and exemplary devotion to duty provided the inspiration and leadership that enabled his platoon to successfully withdraw without further casualties. 2LT Leisy's gallantry at the cost of his life are in keeping with the highest traditions of the military service and reflect great credit on him, his unit, and the U.S. Army.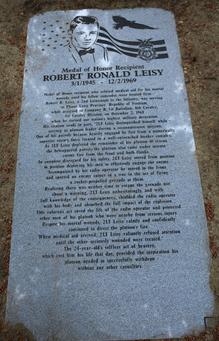 *Awarded posthumously
2LT Leisy's parents, Arthur and Josephine Leisy, received his Medal of Honor in a ceremony conducted in the Old Executive Office Building in Washington, DC from Vice President Spiro T. Agnew on 16 December 1971.  2LT Leisy is buried in Evergreen-Marshall Memorial Park in Seattle, Washington.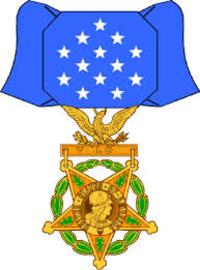 The Medal of Honor
Description: A gold five pointed star, each point tipped with trefoils, 1½ inches wide, surrounded by a green laurel wreath and suspended from a gold bar inscribed "VALOR", surmounted by an eagle.  In the center of the star, Minerva's head surrounded by the words "UNITED STATES OF AMERICA."  On each ray of the star is a green oak leaf.  On the reverse is a bar engraved "THE CONGRESS TO" with a space for engraving the name of the recipient.
Congressional Medal of Honor Society web page: https://www.cmohs.org/
History of the Medal of Honor: https://www.army.mil/medalofhonor/history.html
Medal of Honor – The History (A Vimeo Video Documentary Rivr Digital): https://vimeo.com/100896594

Ghosts of Fallujah
Ghosts of Fallujah (written by Coley D. Tyler) is a first person account of the Second Battalion, Seventh Cavalry's participation in the Second Battle of Fallujah, the largest single engagement of the Iraq War and the largest urban battle since Hue in 1968. A First Marine Division operation, it was spearheaded by one of the […]

Public Request for Division Assets (Band/Horse Cav Detachment/Honor Guard)
Need to request a Division asset: the Band, Horse CAV Detachment, or Honor Guard? Fill out the provided DD Form 2536 and email it to: SFC Kristin M. Chandler at usarmy.hood.1-cd.mbx.1cd-division-comrel@mail.mil.  If you have any questions about filling out the form call SFC Chandler at 254-288-2601. DD2536 Asset Request Form