1LT Walter Joseph Marm, Jr.
Medal of Honor Citation
Rank and organization: First Lieutenant (then 2LT), U.S. Army, Company A, 1st Battalion, 7th Cavalry, 1st Cavalry Division (Airmobile)
Place and date: Vicinity of la Drang Valley, Republic of Vietnam, 14 November 1965
Entered Service at: Pittsburgh, Pennsylvania
Born: 20 November 1941, Washington, Pennsylvanial
G.O. No.: 7, 15 February 1967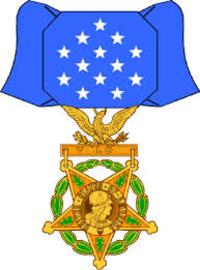 Citation: For conspicuous gallantry and intrepidity at the risk of life above and beyond the call of duty. As a platoon leader in the 1st Cavalry Division (Airmobile), 1LT Marm demonstrated indomitable courage during a combat operation. His company was moving through the valley to relieve a friendly unit surrounded by an enemy force of estimated regimental size. 1LT Marm led his platoon through withering fire until they were finally forced to take cover. Realizing that his platoon could not hold very long, and seeing four enemy Soldiers moving into his position, he moved quickly under heavy fire and annihilated all 4. Then, seeing that his platoon was receiving intense fire from a concealed machine gun, he deliberately exposed himself to draw its fire. Thus locating its position, he attempted to destroy it with an antitank weapon. Although he inflicted casualties, the weapon did not silence the enemy fire. Quickly, disregarding the intense fire directed on him and his platoon, he charged 30 meters across open ground, and hurled grenades into the enemy position, killing some of the 8 insurgents manning it. Although severely wounded, when his grenades were expended, armed with only a rifle, he continued the momentum of his assault on the position and killed the remainder of the enemy. 1LT Marm's selfless actions reduced the fire on his platoon, broke the enemy assault, and rallied his unit to continue toward the accomplishment of this mission. 1LT Marm's gallantry on the battlefield and his extraordinary intrepidity at the risk of his life are in the highest traditions of the U.S. Army and reflect great credit upon himself and the Armed Forces of his country.
Army Secretary Stanley R. Resor awarded COL (Ret), then 1LT, Walter J. Marm Jr. the Medal of Honor on 19 December 1966.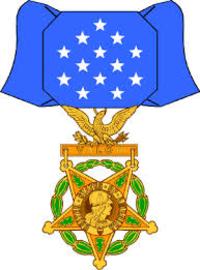 The Medal of Honor
Description: A gold five pointed star, each point tipped with trefoils, 1½ inches wide, surrounded by a green laurel wreath and suspended from a gold bar inscribed "VALOR", surmounted by an eagle.  In the center of the star, Minerva's head surrounded by the words "UNITED STATES OF AMERICA."  On each ray of the star is a green oak leaf.  On the reverse is a bar engraved "THE CONGRESS TO" with a space for engraving the name of the recipient.
Congressional Medal of Honor Society web page: https://www.cmohs.org/
History of the Medal of Honor: https://www.army.mil/medalofhonor/history.html
Medal of Honor – The History (A Vimeo Video Documentary Rivr Digital): https://vimeo.com/100896594

Ghosts of Fallujah
Ghosts of Fallujah (written by Coley D. Tyler) is a first person account of the Second Battalion, Seventh Cavalry's participation in the Second Battle of Fallujah, the largest single engagement of the Iraq War and the largest urban battle since Hue in 1968. A First Marine Division operation, it was spearheaded by one of the […]

Public Request for Division Assets (Band/Horse Cav Detachment/Honor Guard)
Need to request a Division asset: the Band, Horse CAV Detachment, or Honor Guard? Fill out the provided DD Form 2536 and email it to: SFC Kristin M. Chandler at usarmy.hood.1-cd.mbx.1cd-division-comrel@mail.mil.  If you have any questions about filling out the form call SFC Chandler at 254-288-2601. DD2536 Asset Request Form