1LT Robert H. McGovern*
Medal of Honor Citation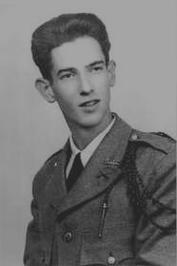 Rank and organization: First Lieutenant, U.S. Army, Company A, 5th Cavalry Regiment, 1st Cavalry Division
Place and date: Near Kamyangjan-ni, Korea, 30 January 1951
Entered service at: Washington, D.C.
Birth: Washington, D.C.
G.O. No.: 2, 8 January 1952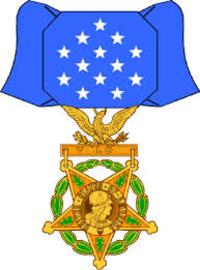 Citation: 1LT McGovern, a member of Company A, distinguished himself by conspicuous gallantry and intrepidity at the risk of life above and beyond the call of duty in action against an armed enemy of the United Nations. As 1LT McGovern led his platoon up a slope to engage hostile troops emplaced in bunker-type pillboxes with connecting trenches, the unit came under heavy machine gun and rifle fire from the crest of the hill, approximately 75 yards distant. Despite a wound sustained in this initial burst of withering fire, 1LT McGovern, assured the men of his ability to continue on and urged them forward. Forging up the rocky incline, he fearlessly led the platoon to within several yards of its objective when the ruthless foe threw and rolled a vicious barrage of hand grenades on the group and halted the advance. Enemy fire increased in volume and intensity and 1LT McGovern realizing that casualties were rapidly increasing and the morale of his men badly shaken, hurled back several grenades before they exploded. Then, disregarding his painful wound and weakened condition he charged a machine gun emplacement which was raking his position with flanking fire. When he was within 10 yards of the position a burst of fire ripped the carbine from his hands, but, undaunted, he continued his lone-man assault and, firing his pistol and throwing grenades, killed 7 hostile Soldiers before falling mortally wounded in front of the gun he had silenced. 1LT McGovern's incredible display of valor imbued his men with indomitable resolution to avenge his death. Fixing bayonets and throwing grenades, they charged with such ferocity that hostile positions were overrun and the enemy routed from the hill. The inspirational leadership, unflinching courage, and intrepid actions of 1LT McGovern reflected utmost glory on himself and the honored tradition of the military services.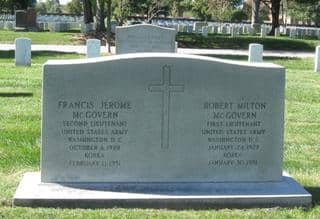 *Awarded Posthumously
When his Medal of Honor was announced in January 1952, 1LT McGovern's father, J. Halsey McGovern, refused to accept the award. He also refused to accept the Silver Star posthumously awarded his second son, Francis Jerome, a member of the 187th Airborne Regiment who was killed-in-action on 10 February 1951. The senior McGovern's refusal was based on his belief that medals were superfluous.  He felt that they did not do justice to all of the heroes of the war in Korea.  And, as he told reporters, he did not feel that Truman "was fit to confer medals on anyone's sons."  1LT McGovern is buried in Arlington National Cemetery next to his brother.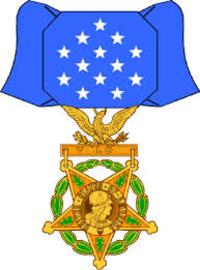 The Medal of Honor
Description: A gold five pointed star, each point tipped with trefoils, 1½ inches wide, surrounded by a green laurel wreath and suspended from a gold bar inscribed "VALOR", surmounted by an eagle.  In the center of the star, Minerva's head surrounded by the words "UNITED STATES OF AMERICA."  On each ray of the star is a green oak leaf.  On the reverse is a bar engraved "THE CONGRESS TO" with a space for engraving the name of the recipient.
Congressional Medal of Honor Society web page: https://www.cmohs.org/
History of the Medal of Honor: https://www.army.mil/medalofhonor/history.html
Medal of Honor – The History (A Vimeo Video Documentary Rivr Digital): https://vimeo.com/100896594

Ghosts of Fallujah
Ghosts of Fallujah (written by Coley D. Tyler) is a first person account of the Second Battalion, Seventh Cavalry's participation in the Second Battle of Fallujah, the largest single engagement of the Iraq War and the largest urban battle since Hue in 1968. A First Marine Division operation, it was spearheaded by one of the […]

Public Request for Division Assets (Band/Horse Cav Detachment/Honor Guard)
Need to request a Division asset: the Band, Horse CAV Detachment, or Honor Guard? Fill out the provided DD Form 2536 and email it to: SFC Kristin M. Chandler at usarmy.hood.1-cd.mbx.1cd-division-comrel@mail.mil.  If you have any questions about filling out the form call SFC Chandler at 254-288-2601. DD2536 Asset Request Form