SP5 Edgar L.McWethy, Jr. *
Medal of Honor Citation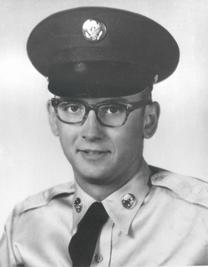 Rank and organization: Specialist Fifth Class, U.S. Army, Company B, 1st Battalion, 5th Cavalry, 1st Cavalry Division (Airmobile)
Place and date: Binh Dinh province, Republic of Vietnam, 21 June 1967
Entered service at: Denver, Colorado
Born: 22 November 1944, Leadville, Colorado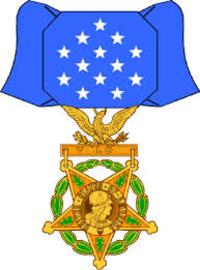 Citation: For conspicuous gallantry and intrepidity in action at the risk of his life above and beyond the call of duty. Serving as a medical aidman with Company B, SPC5 McWethy accompanied his platoon to the site of a downed helicopter. Shortly after the platoon established a defensive perimeter around the aircraft, a large enemy force attacked the position from 3 sides with a heavy volume of automatic weapons fire and grenades. The platoon leader and his radio operator were wounded almost immediately, and SPC5 McWethy rushed across the fire-swept area to their assistance. Although he could not help the mortally wounded radio operator, SPC5 McWethy's timely first aid enabled the platoon leader to retain command during this critical period. Hearing a call for aid, SPC5 McWethy started across the open toward the injured men, but was wounded in the head and knocked to the ground. He regained his feet and continued on but was hit again, this time in the leg. Struggling onward despite his wounds, he gained the side of his comrades and treated their injuries. Observing another fallen rifleman Lying in an exposed position raked by enemy fire, SPC5 McWethy moved toward him without hesitation. Although the enemy fire wounded him a third time, SPC5 McWethy reached his fallen companion. Though weakened and in extreme pain, SPC5 McWethy gave the wounded man artificial respiration but suffered a fourth and fatal wound. Through his indomitable courage, complete disregard for his safety, and demonstrated concern for his fellow Soldiers, SPC5 McWethy inspired the members of his platoon and contributed in great measure to their successful defense of the position and the ultimate rout of the enemy force. SPC5 McWethy's profound sense of duty, bravery, and his willingness to accept extraordinary risks in order to help the men of his unit are characteristic of the highest traditions of the military service and reflect great credit upon himself and the U.S. Army.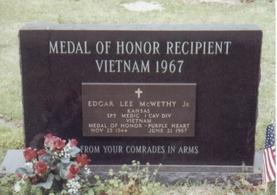 *Awarded posthumously
SP5 McWethy's Medal of Honor was presented to his Family by President Richard M. Nixon on 16 October 1969.  He is buried in Baxter Springs, Kansas.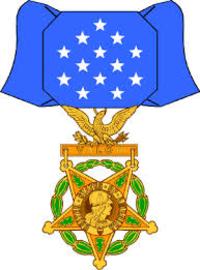 The Medal of Honor
Description: A gold five pointed star, each point tipped with trefoils, 1½ inches wide, surrounded by a green laurel wreath and suspended from a gold bar inscribed "VALOR", surmounted by an eagle.  In the center of the star, Minerva's head surrounded by the words "UNITED STATES OF AMERICA."  On each ray of the star is a green oak leaf.  On the reverse is a bar engraved "THE CONGRESS TO" with a space for engraving the name of the recipient.
Congressional Medal of Honor Society web page: https://www.cmohs.org/
History of the Medal of Honor: https://www.army.mil/medalofhonor/history.html
Medal of Honor – The History (A Vimeo Video Documentary Rivr Digital): https://vimeo.com/100896594

Ghosts of Fallujah
Ghosts of Fallujah (written by Coley D. Tyler) is a first person account of the Second Battalion, Seventh Cavalry's participation in the Second Battle of Fallujah, the largest single engagement of the Iraq War and the largest urban battle since Hue in 1968. A First Marine Division operation, it was spearheaded by one of the […]

Public Request for Division Assets (Band/Horse Cav Detachment/Honor Guard)
Need to request a Division asset: the Band, Horse CAV Detachment, or Honor Guard? Fill out the provided DD Form 2536 and email it to: SFC Kristin M. Chandler at usarmy.hood.1-cd.mbx.1cd-division-comrel@mail.mil.  If you have any questions about filling out the form call SFC Chandler at 254-288-2601. DD2536 Asset Request Form