SGT Donald S. Skidgel*
Medal of Honor Citation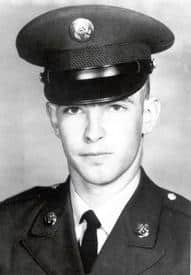 Rank and organization: Sergeant, U.S. Army, Troop D, 1st Squadron, 9th Cavalry, 1st Cavalry Division
Place and date: Near Song Be, Republic of Vietnam, 14 September 1969
Entered service at: Bangor, Maine
Born: 13 October 1948, Caribou, Maine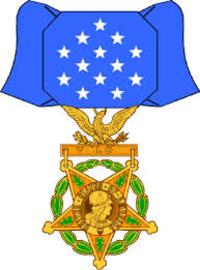 Citation: For conspicuous gallantry and intrepidity in action at the risk of his life above and beyond the call of duty. SGT Skidgel distinguished himself while serving as a reconnaissance section leader in Troop D. On a road near Song Be in Binh Long Province, SGT Skidgel and his section with other elements of his troop were acting as a convoy security and screening force when contact occurred with an estimated enemy battalion concealed in tall grass and in bunkers bordering the road. SGT Skidgel maneuvered off the road and began placing effective machinegun fire on the enemy automatic weapons and rocket-propelled grenade positions. After silencing at least 1 position, he ran with his machinegun across 60 meters of bullet-swept ground to another location from which he continued to rake the enemy positions. Running low on ammunition, he returned to his vehicle over the same terrain. Moments later he was alerted that the command element was receiving intense automatic weapons, rocket-propelled grenade and mortar fire. Although he knew the road was saturated with enemy fire, SGT Skidgel calmly mounted his vehicle and with his driver advanced toward the command group in an effort to draw the enemy fire onto himself. Despite the hostile fire concentrated on him, he succeeded in silencing several enemy positions with his machinegun. Moments later SGT Skidgel was knocked down onto the rear fender by the explosion of an enemy rocket-propelled grenade. Ignoring his extremely painful wounds, he staggered back to his feet and placed effective fire on several other enemy positions until he was mortally wounded by hostile small arms fire. His selfless actions enabled the command group to withdraw to a better position without casualties and inspired the rest of his fellow Soldiers to gain fire superiority and defeat the enemy. SGT Skidgel's gallantry at the cost of his life were in keeping with the highest traditions of the military service and reflect great credit upon himself, his unit, and the U.S. Army.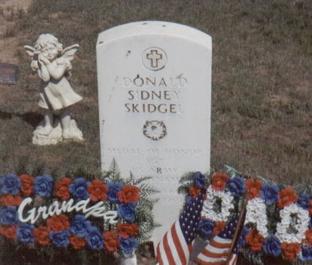 *Awarded posthumously
Vice President Spiro T. Agnew presented SGT Skidgel's Family with his Medal of Honor in a ceremony conducted in the Old Executive Office Building in Washington, DC on 16 December 1971.  SGT Skidgel is buried in Sawyer Cemetery in Plymouth, Maine.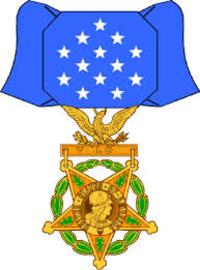 The Medal of Honor
Description: A gold five pointed star, each point tipped with trefoils, 1½ inches wide, surrounded by a green laurel wreath and suspended from a gold bar inscribed "VALOR", surmounted by an eagle.  In the center of the star, Minerva's head surrounded by the words "UNITED STATES OF AMERICA."  On each ray of the star is a green oak leaf.  On the reverse is a bar engraved "THE CONGRESS TO" with a space for engraving the name of the recipient.
Congressional Medal of Honor Society web page: https://www.cmohs.org/
History of the Medal of Honor: https://www.army.mil/medalofhonor/history.html
Medal of Honor – The History (A Vimeo Video Documentary Rivr Digital): https://vimeo.com/100896594

Ghosts of Fallujah
Ghosts of Fallujah (written by Coley D. Tyler) is a first person account of the Second Battalion, Seventh Cavalry's participation in the Second Battle of Fallujah, the largest single engagement of the Iraq War and the largest urban battle since Hue in 1968. A First Marine Division operation, it was spearheaded by one of the […]

Public Request for Division Assets (Band/Horse Cav Detachment/Honor Guard)
Need to request a Division asset: the Band, Horse CAV Detachment, or Honor Guard? Fill out the provided DD Form 2536 and email it to: SFC Kristin M. Chandler at usarmy.hood.1-cd.mbx.1cd-division-comrel@mail.mil.  If you have any questions about filling out the form call SFC Chandler at 254-288-2601. DD2536 Asset Request Form