1LT James L. Stone
Medal of Honor Citation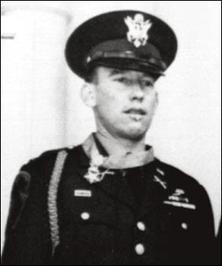 Rank and organization: First Lieutenant, U.S. Army, Company E, 8th Cavalry Regiment, 1st Cavalry Division
Place and date: Near Sokkogae, Korea, 21 and 22 November 1951
Entered service at: Houston Texas
Born: 27 December 1922, Pine Bluff, Arkansas
G.O. No.: 82, 20 October 1953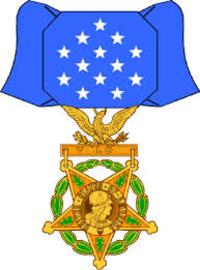 Citation: 1LT Stone, distinguished himself by conspicuous gallantry and indomitable courage above and beyond the call of duty in action against the enemy. When his platoon, holding a vital outpost position, was attacked by overwhelming Chinese forces, 1LT Stone stood erect and exposed to the terrific enemy fire calmly directed his men in the defense. A defensive flame-thrower failing to function, he personally moved to its location, further exposing himself, and personally repaired the weapon. Throughout a second attack, 1LT Stone; though painfully wounded, personally carried the only remaining light machine gun from place to place in the position in order to bring fire upon the Chinese advancing from 2 directions. Throughout he continued to encourage and direct his depleted platoon in its hopeless defense. Although again wounded, he continued the fight with his carbine, still exposing himself as an example to his men. When this final overwhelming assault swept over the platoon's position his voice could still be heard faintly urging his men to carry on, until he lost consciousness. Only because of this officer's driving spirit and heroic action was the platoon emboldened to make its brave but hopeless last ditch stand.
1LT Stone was captured and held in a Prisoner-of-War camp until he was exchanged on 3 September 1953.  He was awarded the Medal of Honor  by President Eisenhower in a ceremony conducted at the White House on 27 October 1953.  COL (Ret) James L. Stone died 9 November 2012 and is buried in Dallas-Fort Worth National Cemetery.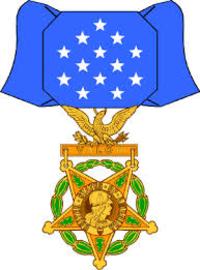 The Medal of Honor
Description: A gold five pointed star, each point tipped with trefoils, 1½ inches wide, surrounded by a green laurel wreath and suspended from a gold bar inscribed "VALOR", surmounted by an eagle.  In the center of the star, Minerva's head surrounded by the words "UNITED STATES OF AMERICA."  On each ray of the star is a green oak leaf.  On the reverse is a bar engraved "THE CONGRESS TO" with a space for engraving the name of the recipient.
Congressional Medal of Honor Society web page: https://www.cmohs.org/
History of the Medal of Honor: https://www.army.mil/medalofhonor/history.html
Medal of Honor – The History (A Vimeo Video Documentary Rivr Digital): https://vimeo.com/100896594

Ghosts of Fallujah
Ghosts of Fallujah (written by Coley D. Tyler) is a first person account of the Second Battalion, Seventh Cavalry's participation in the Second Battle of Fallujah, the largest single engagement of the Iraq War and the largest urban battle since Hue in 1968. A First Marine Division operation, it was spearheaded by one of the […]

Public Request for Division Assets (Band/Horse Cav Detachment/Honor Guard)
Need to request a Division asset: the Band, Horse CAV Detachment, or Honor Guard? Fill out the provided DD Form 2536 and email it to: SFC Kristin M. Chandler at usarmy.hood.1-cd.mbx.1cd-division-comrel@mail.mil.  If you have any questions about filling out the form call SFC Chandler at 254-288-2601. DD2536 Asset Request Form