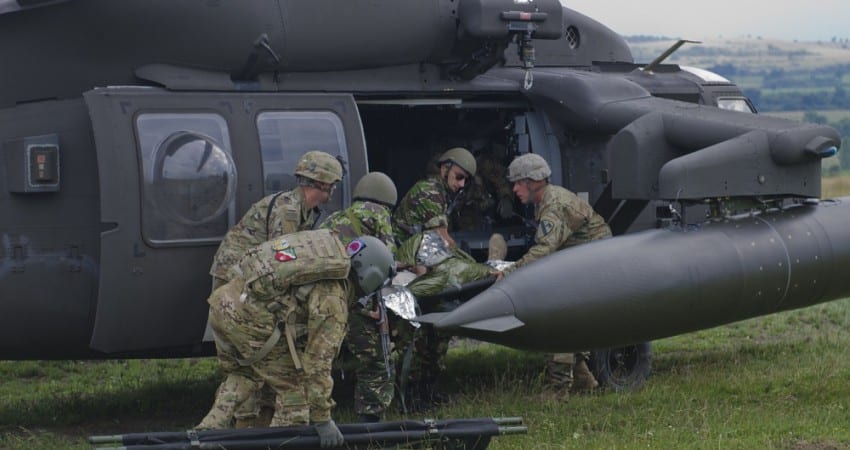 CINCU, ROMANIA
07.09.2017
Story by Sgt. Justin Geiger
7th Mobile Public Affairs Detachment
Source: https://www.dvidshub.net/news/240554/us-forces-evacuate-casualty-local-medical-facility-romania
CINCU, Romania – Soldiers with 1st Cavalry Division Artillery; 4th Battalion, 319th Field Artillery Regiment, 173rd Airborne Brigade; 5th Battalion, 113th Field Artillery Regiment, NC National Guard and aviation assets from 10th Combat Aviation Brigade, 10th Mountain Division, executed a training exercise to rehearse their procedures for casualty evacuations and medical evacuations at the Joint National Training Center in Cincu, Romania, July 8, 2017.
A collection of national guard and active duty units are currently in Romania to participate in Exercise Getica Saber, which runs concurrently with Saber Guardian, a U.S. Army Europe-led, multinational exercise that spans across Bulgaria, Hungary and Romania with more than 25,000 service members from 22 Allied and partner nations.
"We're participating in a multinational training exercise that may cause real-world injuries," said Capt. Jeffery Irwin, Senior Physician Assistant for 1st Cav. DIVARTY. "soldiers will be firing a variety of weapon systems and there will be a lot of moving pieces, so the probability of an injury is relatively high."
"You don't want your first time reacting to casualty evacuation or an air medical evacuation to be when someone's life could potentially be on the line, so you need to rehearse before that happens, " Irwin said.
This exercise stressed the capability to assess the wounded, evacuate the casualty by ground transportation then use aviation assets to air lift the casualty to receive urgent care at a medical treatment facility.
The proactive measures were employed to prepare ground, medical and aviation personnel for the upcoming Fire Support Coordination Exercise and the Combined Arms Live-Fire Exercise during Getica Saber 17.
While deployed in Romania to provide medical support during Getica Saber, Pvt. Shane Granville, Combat Medic Specialist for 1st Cav. DIVARTY, took the time to discuss the confidence he gained after assisting in the evacuation.
"There's always room for improvement, but I feel very confident in my skills, especially after conducting this type of training," said Granville.
Granville also highlighted the benefits of executing a training exercise in preparation for potential real-world injuries.
"The benefits of conducting exercises like this is it reinforces the skills you've been trained on and it gets you in the right state of mind to react to these kind of situations if they actually occurred," he added.
Starting with the Soldiers responding to the wounded, to the Soldier calling up the injury report, to the medical ground transportation, to the air transportation pick-up site, every second counts when a casualty has life-threatening injuries.
"It's all about the golden hour when you're talking about casualties, so if we can get the patient to a medical facility in under an hour is very critical," Irwin emphasized.